The FC Barcelona players have learned first hand just how much passion there is for the club in Palestine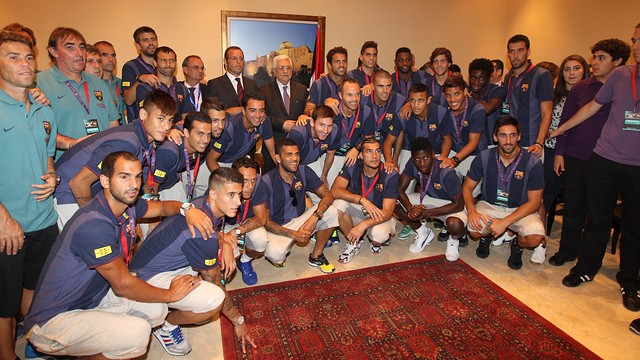 They then made their way to the headquarters of the Palestinian presidency for a private visit where they were received by president Mahmoud Abbas. Treated as if he were a head of state, Sandro Rosell was accompanied by the other members of the board, plus the players, and exchanged a few words and gifts with the Palestinian leader. Then Jibril Rjoub, the head of the Palestinian Football Association, spoke to the media and explained what a historic moment this is for his people. "We are hugely respectful of this visit being paid by Barça" he said. "It is big step towards our desire for peace". He spoke about his high hopes for a future independent state of Palestine, and announced that if that day should ever come, then FC Barcelona would be the first team they'd be inviting to play.
President Sandro Rosell thanked him for the affection shown by the Palestinian people, saying "Barça will do everything we can to do our little bit to help resolve this conflict and achieve peace". And after seeing so many children wearing Barça shirts, he also had some special words for younger Palestinians.
Original Article